The Analytical Group of Companies was set up to serve its customers in ASEAN regions by providing them with reliable scientific instrumentation as well as systems boasting cutting edge technologies. Originally started in Singapore in 1992, the company has now operations in 5 countries. Its vision is to establish itself as the key player providing quality sales and support in the spectroscopy and radiation monitoring area in the ASEAN region.

Today, the company has aligned itself with renowned manufacturers in the likes of HORIBA (SCIENTIFIC), BIOLIN SCIENTIFIC, AMETEK (ORTEC), QUANTEL LASERS & more.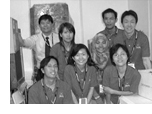 Within the fields of Analytical's professional experience, the group prides itself on offering 'solutions' to most customer queries and applications with enthusiasm and dedication, until the job is complete.

Analytical brings to this particular field of science and technology a wealth of experience in both years of various applications and the highest caliber of people in the industry. Couple this to the immeasurable wealth of knowledge of its aligned partners and principals and the result is an unrivalled package of equipment, service and support, all within your grasp.
---

This unique combination of experienced professionals and youthful enthusiasm, culminating in a team dedicated to the support and fulfillment of our customers needs, requirements and expectations.

We believe your visit to our site will be rewarding as we strive to provide useful information on the various characterization methods and techniques that our instruments employ.

---